WebRTC Video Call
Realtime audio and video communications Browser to Browser! P2P
It's a great meeting place to talk face to face
Users can use the chat rooms on the fly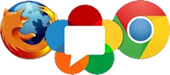 Works Only with webrtc enabled browsers like Google and FireFox browsers (mobile tablet and desktop).
Bowser Mobile WebRTC browser for iOS and Android

-OR TRY THE-
TwitCam addon
NOTE: this addon is NOT included in this package!
How it Works!
Choose one of the 15 room locations
1. Setup Your VideoChat enter an secret id click Start
2. Invite a friend and let Him/Her create his own ID
3. Let Him/Her enter Your ID (or visaversa)
Now Just Wait till your friend enters your ID
Done Enjoy!
Nothing to install WebRTC runs direct in your browser.
And we also don't need your E-mail addess
"All you need is a Webcam"
You can make long distance video calls without any time limits.
EXTREEMLY FAST, SAFE AND IT'S 100% FREE
Buy this script Here only $ 14